Along the Indian River Lagoon, just across an elevated bridge from Melbourne, and a little over an hour from Walt Disney World, you will find the cozy beach town of Indialantic. Those seeking a respite from the hustle and bustle of Florida's larger cities will find all of the tranquility and peace their heart desires in Indialantic. However, while the area is a refuge from metropolitan noise, its centralized location still puts residents close to exciting attractions and amenities.

As a township founded by a Chicago investor over a hundred years ago, Indialantic has come a long way in a short time, with beautiful homes tucked into pretty suburban streets, school districts rated well above the state average, and of course, plenty of sunshine, palm trees, and green spaces. There are far more pros than cons to buying one of the homes for sale in Indialantic, but both are worth exploring when considering a move.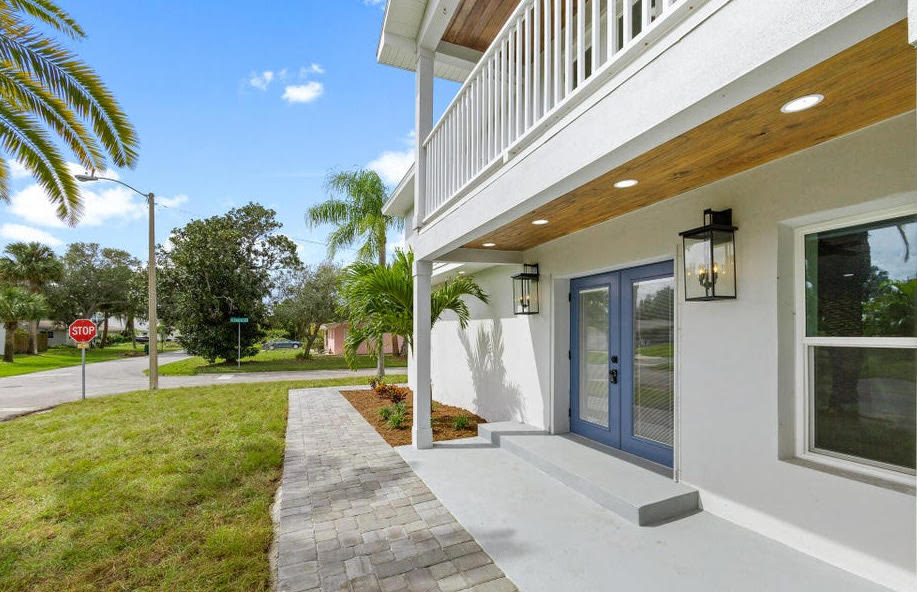 Pros of living in Indialantic
The pros of living in Indialantic have to do with its location and its size. As a quiet suburban beach town that acts as a sanctuary for retirees and families commuting to the larger cities, this picturesque town has many selling points.
A quiet, remote location on the Atlantic Ocean
Unlike many cities dotting the Atlantic Ocean coastline, Indialantic is quieter, boasting a small-town atmosphere perfect for families, retirees, and business professionals looking for privacy. The area doesn't boast a downtown or major shopping area; the city is accessible from the mainland only by a single bridge connecting the town to the much larger city of Melbourne. The equally small cities of Indian Harbour Beach and Melbourne Beach border Indialantic to the north and the south, respectively.

For those searching for a small town with direct access to nature yet close enough to explore nearby cities' attractions, Indialantic real estate is the right place to look. Most residents own their homes here, and many who still work commute from Melbourne or Orlando.
The cost of living is great for a beach town
Compared to other beach towns in Florida, Indialantic's cost of living is much more manageable. While its median home values may be high compared to the national average, residents must remember that these numbers are lower compared to urban oases like Miami and Fort Lauderdale. The
average household income
is $76,773, just up from the national average, and other benefits of living in Florida, like no state income tax, make this city quite affordable.
An ideal place to raise kids or retire
Indialantic is idyllic for families looking to settle down and retirees hoping for a calm life. Nearby schools are highly regarded and offer a plethora of top-rated educational programs and clubs for students of all ages. Indialantic's easygoing, quiet ambiance, verdant green spaces, and nearby parks make it a great place for families and retirees.
Cons of living in Indialantic
Of course, there has to be a downside to living anywhere. No place will meet the needs or demands of everyone all at once. The cons of living in a small town on the South Atlantic Coast, such as Indialantic, mostly have to do with its size and location.
It may be too small for some
The town is small. There is no denying that. As a result, you might find the area too small for your taste. Most small towns don't typically have a robust nightlife scene or many shopping options, and Indialantic is no exception. If you seek these amenities, you'll have to drive to Melbourne for more action, which is precisely what makes this location great for some and not enough for others. If you're hoping for an active, walkable downtown environment, Indialantic may not be the ideal place to live. However, if you don't mind taking the short commute into the city, this small town really does provide the best of both worlds: small-town charm with access to big-city attractions.
Economic and career choices are limited
Because of Indialantic's size, residents have limited job opportunities. Residents keep the area thriving with their hospitality and warmth, but this doesn't equate to a robust economy. You will not find large hotel chains dotting Indialantic's coastline or awe-inspiring companies setting up headquarters here. However, many residents work from home or commute to nearby Melbourne to further their careers, so there are options available to you.
Hurricanes are inevitable
Hurricane season occurs yearly, and Florida's Atlantic Coast is typically a star player. Indialantic is at risk of getting hit by a hurricane every year, and at just 13 feet above sea level, residents potentially deal with flooding and property damage. Florida is one of the most hurricane-prone states in the country, and Indialantic, situated between a river and the ocean on an isthmus, experiences a large percentage of those hurricanes.

However, it's important to note that every state contends with various natural disasters, whether an earthquake, tornado, flooding, or ice storm, so keep that in mind before you scratch Indialantic off your list.
Moving to Indialantic
Before you decide on the next place you want to live, remember that everything is subjective. What makes one place great to one person can be abysmal to someone else. At the end of the day, it comes down to what you're looking for in a community. Families and retirees seeking a tranquil life on the water with friendly neighbors and endless sunshine will likely fall in love with Indialantic.
Contact MVP Sales Group for info on Indialantic real estate
If you're ready to move to Indialantic or want more information,
contact MVP Sales Group today
. As experts in
Melbourne luxury real estate
and the areas along Florida's Atlantic Coast, we are here to help you find the right home in the community that meets your needs. You have many options to choose from, and our real estate services are sure to
exceed your expectations
. Get in touch with us to learn more about how we can help.